As the news headlines continue to fill our attention with negative headlines and worrisome reports, we know that business (even the small and medium-sized Amazon businesses) must continue to move forward day by day. And for those that are having concerns with getting products from their manufacturers, there is good news on the horizon!
Here at Unicargo, we have hundreds of manufacturers network that we have worked with on behalf of our clients, so we recently reached out to many of them to find out the status of production capacity in China. The results are encouraging to say the least, but still, show some minor scars of an interrupted way of life in China.
The purpose of this survey is profound. We know that there are many uncertainties in today's selling space. Amazon sales are sky-high for many sellers, while many are losing sales velocity. We know that many sellers' abilities to send inventory into FBA were halted in mid-March, while others are moving at extreme paces with FBM (fulfilled by merchant) orders. But amid all of these (we believe to be) temporary conditions, we also know that the world is becoming more and more accustomed to e-commerce. And this is a good thing for long-term online business! So the reason I consider the purpose of this survey to be "profound" is that the opportunities to solidify our futures in e-commerce have never been greater, but some of the most important considerations need some immediately answered questions before we move forward. One of those questions, of course, is regarding the supply chain and where we should source from.
Can we still source from China? Are things back on track there? Are the factories up and running again?
I firmly believe that those questions are now largely answered, and I want to share the results of our massive survey here. The results are BEYOND encouraging.
Factories Back To Work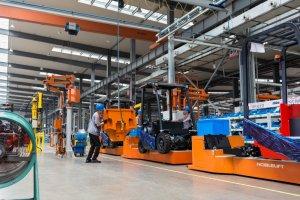 At the time of this survey, 100% (yes ALL of them) of the factories that we surveyed are back to work. The survey was conducted over multiple regions in the country and a huge sampling of production types, and it is massively reassuring that all of them are open for business. Around 70% of them were opened and working by the end of February, with the remainder coming back on-line in the first half of March. These ranged from beauty supplies to furniture to toys to textiles. All of them are back up and running!
Shipping Capabilities and Exports
Amid the headlines and information that everyone is looking at, there have been a lot of conversations about shipping. We know that the global air freight industry is suffering because much of the air freight flown around the world is not done so in dedicated cargo jets, but in the unused spaces in the bottoms of passenger jets. With a vast majority of the international passenger flights halted, this reduces the available cargo space for air freight. Here at Unicargo, we can tell you that things are moving along and we are still able to ship high volumes now, but let the survey results speak for themselves.
Of the factories surveyed, 72% of them had already conducted export shipments in the month of February. This is a VERY significant number because it not only shows that they were able to get the products produced in time to ship, but that they were able to execute export shipments during a time of calamity. The remaining factories were shipping goods by March.
Production Capacity
Amidst the "good news" of factories being opened, we also knew that this wasn't the entire story. We suspected that many factories were "open", but we wanted to know at what capacity they were operating. If a factory claimed to be operating but was at only 10% of its workforce, it would not do much good! Here are the results of our findings, and we see them to be promising!
68% of the factories we surveyed were up to FULL CAPACITY in terms of labor. This is a much higher number than we initially anticipated, but very much welcomed! Another 18% reported more than half capacity, but not full capacity. And the remaining factories ranged from around 30-50% capacity. Of the factories that were below 50% capacity, the reasons ranged from not having enough orders to warrant full labor, or inability in some cases to procure raw materials to complete orders.
Things Getting Back to the NEW Normal
So in summary, we feel it is safe to say that things are getting back to the NEW normal in China. We know that the world will likely take a long time to recover from this crazy start to 2020, and "normal" is kind of subjective.
We are facing new challenges in consumption, especially in the US, as the Coronavirus story develops; new regulations and compliance guidelines and shifts in product category demand. Overall, it seems like everything will get back to normal for most FBA sellers. Those who got "burned" and those who are concern about the restrictions, need to consider a plan B to FBA. Another thing you want to consider is Air express. If you are usually shipping with regular air cargo you probably noticed that the cost is extremely high since air cargo is shipped in a passenger airplane, and since the number of passenger flights dropped dramatically – Air Express might be even cost-effective and faster.
The NEW normal will be an increased demand for online shopping, which means those of us that are in the e-commerce space are in a great position! And knowing that the main source of most of our products is back on-line and open for business is a nice assurance as we make our game-plan decisions on a daily basis now.
Make calculated decisions at this time, and we hope that the survey we have conducted will give you some information that you desperately need at a time like this. China is open for business, we are shipping, and the world is craving more online products to buy. It all adds up to the conclusion that it's a great time to be an Amazon seller!