Driving Your Business Forward
Whether your cargo just arrived from across the ocean or you need to move cargo domestically, We'll get your cargo to its final destination safely, on time, and on budget.
Why Choose Unicargo for Your Road Freight Needs
Whether it's with our in-house trucking department or the global network of reliable carriers we built, your cargo is in good hands throughout the shipping process.
We continually negotiate and compare rates with our carriers to ensure you get the very best value for your money.
Our experienced team has seen it all and can predict almost any roadblock along the way, this is why 99% of our shipments arrive on time. No surprises. No excuses.
Optimize Delivery Time and Cost
We offer both full truck load (FTL) and less than a truck load (LTL) services, with alternative route options to suit your deadlines and budget. Whether it's for short or long distances, our trucking and delivery service is comprehensive, reliable, and efficient, even at short notice.

If you're unsure which shipping method fits your requirements, we'll be more than happy to guide you. Contact our trucking department and let them take care of your request.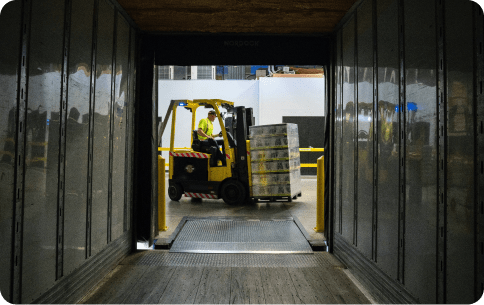 Streamline Your Inland Shipping with Our Online Platform
Unicargo's unique platform allows digitizing of inland processes.  Finally, you can easily manage your bookings, documentation, status, and shipment location.
With milestone notifications -booking, pickup, departure
Real-time ETA updates according to weather or road conditions
24/7 access to the up-to-date route, status, and documentation.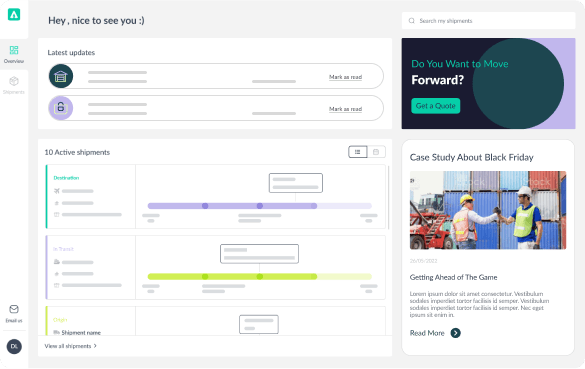 Stand-Alone or Combined With Ocean and Air Freight
Our inland transportation services can be a standalone domestic service or combined with ocean and air freight for international shipments, providing you with a complete end-to-end transportation solution. Flexibility is what it's all about, and partnering with us will take your flexibility to the max.
Here lies the biggest advantage that truly makes us the scalable partner you need.
Our trucking services are just one of many services we offer in our logistics ecosystem.
Need warehousing and fulfillment services? We got you covered.
What about adding insurance to your cargo? We can also help there.
What about customs, regulation, and compliance? Let our team help.
What types of land forwarding services do you offer?
We offer worldwide container haulage for full truck load (FTL) or less than a truck load (LTL), as well as drayage options.
What is the difference between FTL and LTL?
FTL stands for full truck load, which means the shipment takes up the entire truck, while LTL stands for less than a truck load, which means the shipment takes up a portion of the truck.
How do you select your trucking partners?
First of all, we have our in-house trucking department that will answer your inland transportation needs within the United States. In addition, we work only with the most reliable service providers, with whom we have direct access to a global network of trucking companies. We check their credentials and references and brief them on our procedures to ensure a smooth and efficient shipping process.
Can you help me optimize my shipping process?
Yes, we offer alternative route options to suit your deadlines and budget, ensuring that you optimize delivery times and costs. Our platform also provides visibility throughout the whole process, allowing you to track changes and predict deliverability.
Do you offer any online documentation services?
Yes, we streamline the booking process and offer online documentation to save time, reduce the risk of errors, and always allow you to have what you need.