Warehousing and Fulfillment Services
As an all-around fulfillment provider, we offer comprehensive services tailored to meet the unique needs of importers, manufacturers, wholesalers, and other businesses that require warehousing and fulfillment services.
Unicargo's flexible and scalable solutions ensure that your products are expertly managed from the moment your order is processed until shipping and delivery, so you are free to focus on the heart of your business.
Track Inventory in Real Time
Our advanced inventory management system (IMS) provides real-time inventory tracking, enabling you to monitor stock levels and movement across multiple locations, and to make informed decisions.
We offer domestic freight brokerage, international freight forwarding, and extensive warehousing solutions, providing you with a complete logistics ecosystem. This seamless integration of services simplifies your supply chain management and ensures efficient and cost-effective solutions.
As your business grows, our warehousing and fulfillment services can be adapted to changing market conditions, seasonal fluctuations, and evolving customer demands.
Streamline Your Warehousing and Fulfillment Processes with Our Online Platform
Unicargo's digital platform allows digitizing of warehousing and fulfillment Processes. With milestone notifications, 24/7 access to status and documentation, our platform provides visibility throughout the entire process and seamless tracking of changes and deliverability predictions.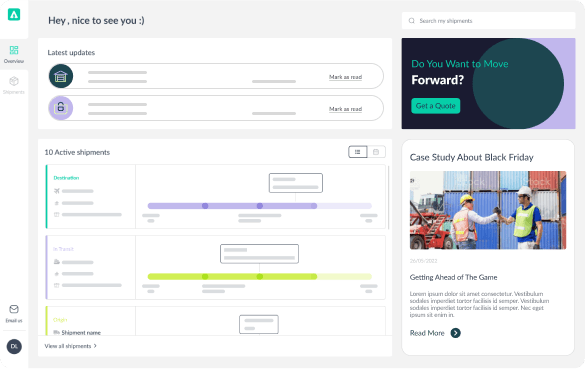 Whether you require short-term or long-term storage solutions, our experienced team can provide you with tailored services that will meet your specific needs.
Our international wide-spread warehousing facilities position your goods closest to your your next step, and enable a quick and seamless transition, whether it's to the next leg of your shipping route or to your end customer.
For further inquiries feel free to reach out directly to our experienced warehousing team.
Order Processing
Pick & Pack
Shipping & Distribution
Cross Docking
Inventory Management
Order Processing
Throughout our facilities, the fulfillment process begins with smooth order processing. Unicargo's experienced staff and advanced management system ensure that your orders are processed accurately, while minimizing the risk of errors and delays.
Our efficient order processing systems allow us to pick, pack, and ship products with lightning speed, ensuring that they are delivered to customers on time, every time.
Pick & Pack
Shipping & Distribution
Cross Docking
Inventory Management
What types of products can be stored in your warehouse?
Our warehouse facilities are equipped to store a wide variety of products, including but not limited to electronics, medical equipment, consumer goods, and perishable goods.
Do you offer short-term and long-term warehousing solutions?
Yes, we offer both short-term and long-term warehousing solutions to meet the needs of our clients. Our dedicated and shared space solutions are available for any duration, providing you with the flexibility to adjust to your business needs.
Can you provide customized packaging solutions for my products?
Yes, we can provide customized packaging solutions to meet your specific requirements. Our team will work closely with you to design a packaging solution that best fits your products.
Do you offer pick-and-pack services?
Yes, we offer pick-and-pack services as part of our comprehensive warehousing and fulfillment solutions. Our team will manage the entire process, from receiving the product to packing and shipping the orders.
How do you ensure the safety and security of my products in your warehouse?
We take the safety and security of your products very seriously. Our warehouse facilities are equipped with state-of-the-art security systems, and our team of experienced professionals is trained to handle your products with the utmost care.
Can I track my inventory in real-time?
Yes, our advanced warehouse management system (WMS) allows you to track your inventory in real-time. You can access the system from anywhere, providing you with complete visibility of your products at all times.
What types of businesses do you work with?
We work with businesses of all sizes, from startups to large corporations. Our warehousing and fulfillment solutions are tailored to meet the unique requirements of each client, regardless of their size or industry.
If you have any other questions about our warehousing and fulfillment solutions, please do not hesitate to contact us. Our team of experts will be happy to answer any questions you may have.