How to Navigate Peak Season Shipping
We Asked 5 Experts!
Are you an e-commerce seller or a wholesale distributor who's ever felt the icy grip of panic as peak shipping season looms large?
Not prepping for it can wreck your business. So, how to successfully navigate peak season shipping?
It's simple. An efficient shipping strategy is the key to boosting conversions and keeping customers happy amidst the shipping frenzy.
In this article, we've partnered with five experts, including Amazon pros and e-commerce gurus, to supercharge your freight strategy, by sharing some key peak season shipping tips. Besides, we've also got our own killer tips. But first, let's understand peak shipping season and its hurdles.
Key Takeaways: Navigating Peak Season Shipping
Predict Demand to Stock Up on Inventory

– To handle peak season, predict demand by looking at past sales and trends, watch out for industry and economic changes, and monitor competitors. Also, stock specific items for seasonal demand and track inventory.

Prepare Your Website for Visitor Surge

– Prepare your website for the holiday rush, work with IT to boost speed, focus on mobile-friendliness, and provide mobile payment choices. Create a branded tracking page for shipping updates; consider a minimum order for free shipping, and offer a "Jump the line" option.

Hire a 3PL Provider for Outsourced Fulfillment

– Consider partnering with a 3PL provider like Unicargo to handle warehousing and shipping for your ongoing needs, such as transloading, amazon prepping, etc.  When transporting stock to Amazon, make sure your freight forwarder confirms appointments for delivery at Amazons's wareshouse/s ahead of time  to ensure swift check-in and prevent detention and additional charges for unexpected delays

Use Geotargeting to Optimize Operational Costs

– Use geotargeting to identify the fastest delivery areas and offer "expedited shipping" there, even if it's cost-effective standard shipping. This enhances the shopping experience for customers and ensures cost-efficient logistics.

Choose the Optimal Shipping Method

– Selecting the right shipping method depends on factors like shipment type, size, destination, and urgency. For ocean shipping, consider LCL for small shipments and FCL for more security and large amounts of merchandise. Choose air freight for urgent shipping and repeat orders for re-stocking before the holiday seaon, for example.
What Is Peak Season?
Peak season in international freight is a time when the demand for goods goes through the roof, often happening seasonally. It's exactly like the Super Bowl but vis-à-vis the logistics industry.
Like the Super Bowl influences sports, advertising, and entertainment, peak shipping season shapes logistics and trade dynamics. In peak shipping season, surging demand due to holiday shopping affects freight rates, market availability, and the entire supply chain.
You probably got the gist. Now, let's understand the peak season in detail.
Understanding Peak Season Shipping
As a matter of fact, peak season is a constantly shifting target, with variations in duration, timing, impact on volume, and overall scale. There are four key freight seasons in a typical year, encompassing cyclical shipping trends.
The "freight seasonality" usually refers to four distinct periods of shipping activity, which occur predictably at roughly the exact times each year. However, we will only discuss two of the busiest periods of the freight season here: The peak and the holiday seasons.
The Peak Season (Aug-Oct)
So, when is shipping peak season? It runs from mid-August to mid-October when businesses prepare for the holiday season, causing a high demand for shipping to warehouses and stores.
Freight rates and volumes also hit their peak during this back-to-school window and the beginning of the year-end shopping frenzy. The peak season is known as the busiest in freight seasonality.
The Holiday Season (Oct-Jan)
The holiday season marks the end of the freight year, creating a frenzy as both consumers and shippers demand more. From November to December, shoppers swarm both online and physical stores, while carriers and logistics partners work tirelessly to ensure smooth operations, even handling last-minute orders.
Different regions experience unique holiday patterns, like the Chinese New Year shutdown in January and February, causing supply chain disruptions.
Warehouses in the US and Europe get the busiest from October to January due to holiday shopping. Additionally, air freight has its peak season starting in late October or early November, favored for smaller, urgent shipments despite its higher cost.
If you are interested in finding out the key dates for peak shipping season 2023, check out the following table. It lists important dates, holidays, and events significantly affecting shipping demand and logistics in the 2023 peak freight season.
| Date | Event |
| --- | --- |
| January 1 | New Year's Day |
| January 22-27 | Chinese New Year Holidays |
| February 14 | Valentine's Day |
| February 20 | US Presidents' Day |
| August 15 | Labor Day |
| August 22 | Back-to-School Shopping Begins |
| September 5 | Labor Day weekend |
| September 29-October 6 | Chinese Mid-Autumn Festival/National Day |
| October 1-7 | Golden Week |
| October 10-11 | Amazon Second Prime Day |
| October 31 | Halloween |
| November 23 | U.S. Thanksgiving |
| November 24-27 | Black Friday/Cyber Monday |
| November 25 | Small Business Saturday |
| December 9 | Green Monday |
| December 14 | Free Shipping Day |
| December 16 | Super Saturday |
| December 25 | Christmas |
| December 26-31 | Boxing Week |
| December 31 | New Year's Eve |
Now that we've explained the holiday and peak seasons, let's proceed to their challenges for businesses.
Challenges of Peak Season Shipping
Peak season shipping is an obstacle course for global freight and high-volume logistics companies. It's a time when supply chains can feel like they're running a marathon with hurdles, causing delays, bigger bills, and potentially some serious logistical hiccups. Here are the top challenges that come with peak season shipping:
International Freight Delays
During peak seasons, high demand often creates a traffic jam at ports and terminals, causing delays in shipping. Ships might find themselves stuck in queues, and customs clearances and cargo handling can slow to a crawl.
Take the Los Angeles and Long Beach ports in California, for instance. In 2021, there was a massive traffic jam of cargo ships, with 73 waiting outside the ports in September, almost double the number from August.
The reason? Well, as the US started opening up after COVID-19 lockdowns, people went on a crazy shopping spree, and businesses went all out to restock their products.
The Global Liner Performance Report (GLP issue 144) by Sea-Intelligence displays this scenario. It states that international freight delays were at their worst in 2021 and 2022, especially during the busiest shipping times (usually the 2nd half of the year).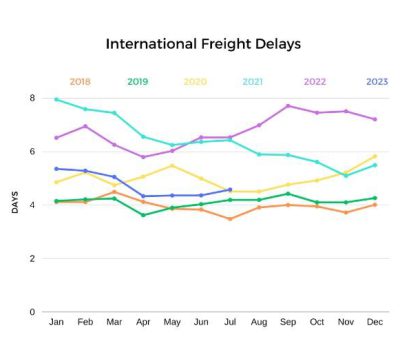 Container Availability
During peak season, everyone's clamoring for shipping containers like the latest smartphone. But guess what? There aren't enough to go around. So, businesses might find themselves waiting for container availability or shelling out big bucks for container rentals.
In December 2021, the worldwide shipping sector was hit by critical container unavailability. This was because of the crazy-high demand for products and the lockdown disrupting manufacturing and logistics.
Higher Shipping Costs
During peak seasons, the shipping rates go sky-high. If companies haven't locked in good shipping deals beforehand, they might get a budgetary shock. Plus, with tariffs and trade rules changing constantly, it's like trying to predict the lottery numbers.
FedEx, for example, announced in August 2023 that their peak season charges are up from last year. They've introduced extra fees on bulky packages and those that require extreme care and additional costs for high-volume shippers.
Capacity Constraints
In peak seasons, carriers and businesses often find themselves scrambling for space on ships and in warehouses, and it's even worse with the e-commerce boom. And fulfilling e-commerce orders in a warehouse? Brace yourself because it takes three times more space than just storing stuff on pallets.
A 2021 CBRE study spilled the beans. Every extra billion in eCommerce sales means we need another million square feet of warehouse space. And we haven't even touched on peak season fulfillment yet. You can picture that yourself.
Factory Shutdowns
Some countries, like China, have long holidays called the Golden Week (Oct 1-7) when factories and businesses hit pause. But the rush starts about 3-4 weeks before the holiday kicks in. So, by September, you can already feel the demand surge.
Labor Shortages
Labor shortages in ports, warehouses, and trucking firms play havoc during peak seasons, especially the holiday season. Inadequate staffing leads to slower cargo handling and transportation, creating chaos in supply chains.
Online shopping, in particular, strains the logistics job market. In Q2 2021, a whopping 26% of U.S. job openings were in logistics. E-commerce fulfillment alone demands triple the workforce of regular warehouses, but its turnover rates are a jaw-dropping four times higher.
Inventory Management
Balancing inventory for peak shipping demands is like walking a tightrope. Too little, and you miss out on sales; too much, and your money's tied up. Brands fear stockouts for a good reason. Supply chain disruptions caused stockouts in the past two years.
According to Adobe's 2021 holiday report, out-of-stock messages shot up by 172% in 2021 compared to 2020 and a whopping 360% compared to 2019. Retailers not only lost immediate sales but also loyal customers due to stockouts.
In fact, 70% of consumers were ready to jump ship to other retailers or brands to avoid them.
Communication and Coordination
Efficient communication and coordination with suppliers, carriers, and logistics partners become increasingly vital during peak seasons. Any communication breakdown can result in missed shipments, stockouts, supply chain delays, and a huge amount of money wasted, further complicating the situation.
For instance, research on the US food industry found poor coordination among supply chain partners was blowing a whopping $30 billion annually.
Well, now that we've discussed the challenges of peak season shipping, let's roll our sleeves and discuss their solutions.
Preparing for Peak Season with Tips from Industry Experts
Imagine you're in the peak season chaos, winging it with your online store. Orders flood in, and you're a frantic mess – juggling products, dealing with logistics nightmares, and facing angry customers. Chaos reigns, and your customers aren't sending Christmas cards; they're sending late delivery complaints.
That's why prep is crucial for a smooth peak season in retail and e-commerce. It can be tricky, but a solid plan helps you handle surprises gracefully. Here are some peak season shipping tips, including insights from 6/7/8-figure Amazon sellers, e-commerce pros, and DTC brands. So, ready to ace your busy season? Let's start!
Predict Demand to Stock Up on Inventory
Look at past sales and market trends to determine how much of the goods you'll need when things get busy. Demand prediction is vital for peak season inventory management, preventing stockouts and overstocks and ensuring you meet customer demand while optimizing costs.
Stefan Ratchev, Founder/CEO of Lux Haus—a coffee-related brand of stainless steel accessories—shares how he forecasts his inventory for the holiday season: "I usually take my last holiday season's sales and multiply them by (my total revenue this year so far / last year's revenue for the same period) and make sure I have enough in stock on Amazon to cover that + an extra 15%."
To explain it further, forecast this season's online store inventory using last year's peak season sales as a starting point. Calculate your revenue growth by comparing this year's year-to-date earnings to the same period the previous year.
Apply this growth factor to last year's peak season sales to predict this year's peak season sales. Add a 15% buffer for potential demand spikes or uncertainties to be safe.
For instance, if you project sales at $12,500, stock around $14,375 worth of products to meet demand and avoid running out of stock. Here are some factors you need to consider when planning inventory:
Check past sales records to spot trends and popular items for the upcoming peak season.

Keep an eye on industry trends, especially in fashion, to stay in the game.

Be ready for increased demand if you're launching a big marketing campaign.

Pay attention to the economy, as it influences consumer spending.

Keep an eye on your competitors, and be ready to adapt if they make a big move.

Some seasons call for specific items, like swimwear in summer. Regularly count your inventory to avoid over- or underselling.

Focus on fast-selling items and use real-time data to restock quickly.

Consider supplier rush and delivery delays when planning inventory.

Get Your Suppliers on Board and Prep Your Team
Get Your Suppliers on Board and Prep Your Team
Make sure your suppliers can handle your demand and have backup options if needed. Share your demand forecasts with 3PL services if you use them and hire and train extra staff for tasks like packing and shipping. Also, stock up on packaging materials in advance to prevent delays due to shortages.
Ryan Davidson, Founder of Raw Juicery—a brand for organic juices—also emphasizes the importance of extra packaging during peak shipping season: "Make sure to order extra packaging materials well in advance as supplier lead times can be drastically longer during the rush."
In addition to these proactive measures, leveraging advanced technology solutions can further enhance your peak-season operations.
Embrace Technology for Peak Season Fulfillment
To handle in-house fulfillment during peak season, ensure you've got the right gear, like computers, barcode scanners, and label printers. Plus, consider adding these systems to your supply chain:
Order Management

: It automates order tasks, cutting errors and boosting efficiency.

Warehouse Management (WMS)

: Handles product movement and storage, making order processing smooth.

Automated Order Processing

: Speeds up fulfillment, reducing errors and keeping customers happy.

Supply Chain Management

: Helps manage goods flow, which is essential for handling peak demand.

Returns Management

: Deals with returns and refunds effectively. If you're an e-commerce business owner, returns, or what's called "

reverse logistics

" can be very important especially when trying to meet budget.  Not all logistics providers/freight frowarders offer this service.  Be sure to to know your freight forwarder has this capability, because sooner or later you will need it.
Using these systems sets you apart from competitors and ensures top-notch service and delivery quality during busy times. However, if handling all these systems seems overwhelming, Unicargo's ecosystem offers a flexible and customized fulfillment solution that can grow with your needs.
Elevate Service and Delivery Quality
Gio White, Head of Marketing Taos Footwear, shares how delivering the products on time is as crucial as its quality:
"For eCommerce sellers, mastering peak-season shipping is pivotal. A proven strategy is to work backward from key holiday deadlines, pinpointing the ultimate dates shoppers need their packages. It's essential to communicate these deadlines clearly and assure customers of our commitment to meet them, creating a sense of urgency and boosting conversions. This assurance, woven seamlessly into all forms of communication—emails, SMS, social media, or ads—acts as a potent marketing message, reinforcing reliability and encouraging purchases. In today's competitive market, delivering on time is as crucial as the quality of the products we offer."
Simply put, missing shipping deadlines can make customers unhappy, get you bad reviews, and cost you sales. So, during the holiday rush, figure out the crucial dates for customers to get their orders on time. Make sure to clearly tell them through your website, emails, texts, and social media.
This urgency will let customers know the last order dates for holiday delivery. Also, promise them that you'll meet the deadlines. This builds trust and boosts sales since people buy when they trust their orders will be on time. Here are some more tips to stand out among your competition:
Boost warehouse efficiency with layout upgrades, real-time inventory tracking, and quality control to minimize errors.

Use automated address validation for error-free deliveries, especially during busy times.

Keep in touch with your warehouse team, address issues promptly, and adapt to changing conditions.

Prepare for surges in orders during peak days like Black Friday and Cyber Monday.

Offer diverse shipping choices, including express and eco-friendly options.

Provide live tracking and regular order updates for a smoother shopping experience during the holiday rush.

Ensure your website can handle high traffic and is mobile-friendly for easy product discovery and purchasing.
Prepare Your Website for Visitor Surge
Managing shipping during holidays and the busy season is also based on how well-rounded your website is. You'll get increased website traffic, so leverage that chance to ensure your online retail channels are well-prepared for the surge in visitors. Here's what you can do:
Collaborate with IT and developers to prevent slow website loading during high traffic.
Mobile devices make up about 50% of global internet traffic. This percentage keeps on increasing, especially during the busiest quarters of the year.
Therefore, prioritize mobile-friendliness on your site, as one-third to half of shoppers use mobile devices. Also offer mobile payment options (e.g., PayPal, Stripe, Google, Apple Pay).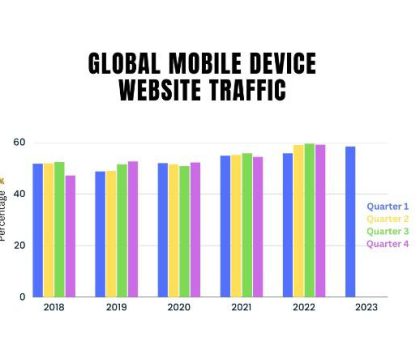 When sprucing up your site for peak season, Ryan Davidson, Founder of Raw Juicery, partakes a golden strategy for creating a branded tracking page:
"Make sure your store's shipment notifications are updated in a way to better manage customer expectations during this time. Create a branded tracking page if you haven't done so already that answers common shipping-related questions."
The idea is to create a branded tracking page with precise shipment info on your site. Answer FAQs about shipping times and how to reach customer support. This transparency will boost customer satisfaction.
John Webber, Founder/CEO of Carved— a company that deals in bespoke wooden accessories—
advises an online store feature for e-commerce sellers to minimize disruption to their regular operations while generating extra revenue during peak seasons:
"Consider offering a "Jump the line" upgrade during the holiday season. Have the customer add the "Jump the line" product to their cart, and then you can easily filter these orders in your OMS. Have your team just process these first, and you'll have minimal operational impact, but you'll generate additional revenue from customers who need gifts as fast as possible."
So, think about offering a "Priority Processing" upgrade on select items for the holidays. Customers can pay extra to move their orders to the front of the line.
Your OMS can identify these orders, allowing your team to handle them without disrupting operations. This will lead to customers receiving their packages quickly.
Be ready for returns as well because they can go up during the busy season. So, have a smooth process for handling them.
Handle Returns Smoothly
Handling e-commerce returns in busy times can be tough due to various reasons. Yet, a solid return policy can boost customer loyalty and repeat sales.
A company's return policy matters to 67% of customers, as per Business Insider. Therefore, it's crucial to incorporate the following elements for a customer-centric return policy:
Simplify your policy language and offer a clear, step-by-step guide.

Provide free return services to align with industry norms; not doing so may drive customers away.

Offer the choice between cash refunds and store credit; store credit encourages reinvestment.

Communicate refund processing timelines for customer financial planning.
After handling the essentials for peak season, the next focus is efficient freight management. The aim: smooth shipping despite surging demand, all while being cost-effective and impressive.
Optimizing Your Freight Shipping Strategy with Tips from Industry Experts
Optimizing your freight shipping strategy involves hiring a 3PL provider and optimizing warehouse space. It also includes identifying the fastest delivery areas, selecting the optimal shipping methods, and optimizing last-mile logistics.
Hire a 3PL Provider for Outsourced Fulfillment
Handling seasonal demand alone is hard, and renting a warehouse is costly and time-consuming. So, consider a third-party logistics (3PL) provider for warehousing and shipping.
This lets you grow your operations for higher demand while focusing on your core business. Here's how partnering with a 3PL provider like Unicargo can ease the holiday chaos:
Provide technology benefits and business monitoring on one platform, monitoring several warehouses on a global level (not all logistics companies have this capability).

Manage COD orders and settle transactions quickly.

Handle

order fulfillment

for you and manage orders from multiple sales channels.

Offer multiple eCommerce warehouses and smart inventory placement, and real-time monitoring.

Ensure speedy same-day and next-day delivery. Ryan Davidson, Founder of Raw Juicery, also agrees with this point.

"Use a fast and reliable shipping manager that helps you save money on shipping and offers a broader range of shipping speeds, including 1 day and same-day."
Davidson stresses that e-commerce sellers need a fast, reliable shipping manager to save money and provide various delivery times, including same-day and 1-day options. This ensures you can give your customers quicker shipping choices while managing your shipping costs effectively.
Jon Tilley, a 7-figure seller on Amazon and CEO of ZonGuru, shares a great strategy for picking delivery partners with "Amazon live unload" capabilities.
"As we head into Q4 when you are transporting stock from your 3PL or warehouse to Amazon, look for delivery partners that have "Amazon live unload" capabilities. It may be slightly more expensive, but it guarantees that your stock will immediately get checked into an Amazon warehouse when it arrives, vs. it potentially sitting outside the warehouse for many days, waiting to get checked in! During high season, this is one of the key tactics that you can leverage to re-stock quickly and avoid stock-outs."
Imagine you're dealing with a hot holiday product and need to send stock to Amazon for the busy season. Now, choosing a delivery partner without "Amazon live unload" might mean your stock waits outside for days before being checked in. This wastes valuable time during the peak season.
On the other hand, paying a bit more for a delivery partner with "Amazon live unload" ensures your stock is checked in immediately upon arrival at the Amazon warehouse.
This way, you can restock fast and avoid running out of inventory when customers are eager for your products. Next, rank shipments by importance and transportation mode.
Prioritize Crucial Shipments
Identify the shipments that are time-sensitive or have strict deadlines. These could be your hottest products or ones that have already been pre-sold. Here are some tips to prioritize crucial shipments:
Maintain open communication with warehouse and shipping partners, informing them of high-priority peak-time shipments.

Establish clear shipping guidelines for your team and vendors to ensure timely and complete deliveries.

In busy shipping seasons, distribute shipments to maintain a steady supply, especially useful for Less than Container Load (LCL) shipping.

Arrange proper warehousing at the destination before the peak season rush if needed.

For quicker and smoother deliveries, think about using transloading services.
Utilize Transloading Services
After your international shipment arrives, it's often better to send it to one warehouse instead of multiple ones. It simplifies delivery management and reduces hassle. To enhance shipping efficiency and cost-effectiveness, utilize transloading services through your 3PL provider.
They involve transferring goods between transportation modes, optimizing routes, and saving costs. For example, goods arriving by ship can seamlessly switch to trucks for the final leg of the journey.
This approach offers flexibility during congested periods and enables shipment consolidation, improving cost efficiency. To further streamline your logistics operations and minimize expenses, consider using geotargeting techniques to optimize operational costs.
Use Geotargeting to Optimize Operational Costs
John Webber, Founder/CEO of Carved, offers an expert tip for using geotargeting on the fastest delivery areas to optimize operational costs.
"Research your fastest delivery areas. You could use simple geotargeting to offer visitors in that area free "expedited shipping." You can still use a cheaper method because you'll know it arrives quickly."
Let's say you have a US-based online store that designates certain suburban zones around major cities as the fastest delivery areas during the holiday season.
In one of these zones, Customer A selects the free "expedited shipping" option at checkout. Leveraging the proximity of your distribution center, you utilize cost-effective standard ground shipping, ensuring a 2-day delivery that aligns with their expectations.
This approach offers a premium-sounding "expedited shipping" choice, enhancing the shopping experience, all while maintaining cost-efficiency through well-informed logistics.
However, you'll want to ensure that your geotargeting strategy for optimizing operational costs works seamlessly. So, choosing an optimal shipping method is crucial.
Choose the Optimal Shipping Method
Different shipping methods like ground, air, sea, and express couriers have unique advantages and drawbacks in terms of cost, speed, reliability, and product suitability.
To choose the right one, consider your shipment's type, size, destination, and delivery urgency. Ground shipping is cost-effective but slower, air freight is fast but costly, and sea freight is economical but slower.
If you're sea freight, you must know that ocean shipping peak season is subject to higher demand and prices in the third quarter. Add to it container shipping seasonality during the same quarter, and this culminates in higher ocean container rates.
This is because retailers build up inventory before the bustling fourth-quarter holiday season, causing high demand and low container supply. Despite this, ocean freight remains economical if you plan correctly and factor in longer delivery times. Container shipping offers two choices: LCL and FCL.
LCL (Less than Container Load)

shipping is cost-effective for small shipments, even during peak seasons, as ocean/air freight costs are minimal. However, it carries higher risks of damage and delays due to consolidation with other shippers, as goods wait for container filling before departure.
FCL (Full Container Load)

shipping is another option for peak season, which means filling a standard cargo container. It comes with a flat fee for the entire container, regardless of its contents. Though it's more expensive than LCL, it offers the advantage of securing goods in a sealed container, lowering the damage risk.
FCL and LCL shipping costs include pickup (container collection) and origin terminal handling (port loading). They also consist of ocean/air freight (transport to the destination port at a flat fee) and destination terminal handling (port unloading).
Additionally, when shipping several containers, make sure to consult with an experienced freight forwarder / logistics provider that knows the ins and outs of the challenges and has the expertise needed to assure efficient and cost-effective shipping methods and trade lanes.  Hint, it's NOT just about getting the cheapest quotation up front.  There is a lot of "reading the small print" that needs to be done prior to making a decision.
Select Your Freight Forwarder
Start with research when selecting your freight forwarder. Look online, ask industry peers, and assess their peak season experience with client referrals. Choosing a forwarder with a global network and partnerships with major carriers is essential because they can offer competitive pricing. Also, check whether they are accredited and have an international freight forwarding license.
Once you shortlist a few, get detailed price quotes and compare them. Establish clear service agreements, including deadlines and backup plans for surprises, and ensure they're customs-savvy. Trust is paramount, as some freight forwarders may switch carriers at the last minute for better deals.
On the other hand, digital freight forwarders like Unicargo stand out due to their trustworthiness, especially for e-commerce businesses. They excel in speeding up and simplifying shipping processes, even during busy periods. Unicargo's massive network of partners also means competitive prices and a lot of choices for saving time and money, not to mention the expertise they provide, being one of the First logistics companies to service e-commerce business owners when this niche just started to boom.
And the cherry on top? Everything is handled in one place. You'll only have to interact with one person from the initial quote to the shipping, making the whole process smooth and convenient for you.
But remember to share your shipment plans with your freight forwarder  especially during peak times or sales. And don't forget to get damage and RTO insurance for international shipments to protect against theft, losses, and Return to Origin cases. Finally, optimize last-mile logistics.
Optimize Last Mile Logistics
Last-mile logistics is the tricky and costly final leg of delivering goods from a warehouse to a customer's door. Especially during peak times, finding carriers for high-volume last-mile deliveries can be challenging when the logistics system is already strained.
To streamline and save, offer flexible delivery options and partner with multiple carriers for cost-effective rates. Keep customers informed with real-time tracking to reduce missed deliveries.
Also, improve accuracy and efficiency by minimizing picking errors, using nearby stores as hubs for shorter distances, and shipping goods out early to expedite the process.
Ship Goods Early
During peak seasons, securing space on carriers is tough because capacity is in high demand. To make sure you get the space, book well in advance. The "Cargo Ready Date" can help you determine when to book.
It is the date when your cargo is packed, labeled, documented, and ready to hand over to the freight forwarder by this date. Don't miss this deadline; for instance, book ocean shipments at least four weeks before Golden Week.
But since the peak season in 2023 is here, you might want to consider booking air freight instead of ocean shipping because it's the quickest option.
Conclusion
Navigating a peak shipping season successfully boils down to preparation, a well-thought-out freight strategy, and expert insights. However, Unicargo can help you achieve this level of preparedness and efficiency in less time, no matter the size of your business and shipments.
We can handle your entire e-commerce supply chain, from warehousing and inventory to pick and pack and automated shipping. Our vast experience and deep expertise, our "boots on the ground"- global teams at ports, our strategic global warehouses (in China, Europe, and the U.S.) accompanied by our digital tracking capabilities not only make us a "one stop shop" but more importantly offer you peace-of-mind and simplicity. Your job is to grow your business, OURS is to handle your logistics efficeintly and assure you're ready to deliver your goods smoothly and on  a timely schedule.